I'm speaking and preaching at Red Clay Creek Presbyterian Church in Wilmington, DE* in a couple of weeks, and one of their pastors, Nate Phillips, (who is also an author!) interviewed me as part of their publicity. I liked their questions and thought I'd share the answers here. First off, what is "improv" and how did it become an interest of yours?
When we think of improvisation, most of us think of jazz improv, or the comedic performances we see on Whose Line Is It Anyway and similar shows. I've been captivated by improv for years, but always as an observer. I love being around people who can create on the fly like that—as if from thin air!—but it never felt like anything I could do.
I did a lot of theater in high school and college, but those experiences centered around scripted shows and musicals. We'd do an occasional improv game or warmup, but I always found them painfully hard. So I come to improv as someone who's not naturally oriented that way. I often joke that organizing is my true superpower. I like knowing what's going to happen. I appreciate planning and deliberation. Flying by the seat of my pants feels deeply uncomfortable to me. (I'm a Presbyterian after all.)
But the older I get, and the longer I serve as a pastor and spiritual leader, the more I realize that life rarely conforms to our carefully laid plans and expectations. When the unexpected happens, we can cling ever harder to illusions of control, or we can learn to be flexible and open to the mystery as it unfolds, trusting that a gracious and creative God is with us. I started to dabble in improv because I suspected that the things we learn in an improv class might serve us well in our everyday lives. And those suspicions have been proved right again and again. Improv requires good listening, collaboration, humility, and risk—which are all things that make for an invigorating, fruitful life. It's also a whole lot of fun.
When did you begin to see connections between improv and the work of the church?
Several years ago I saw a YouTube video of Stephen Colbert speaking to a group of graduates about the basic rule of improv, which is to say "Yes-And." When people are on stage together, their job is to accept what their partner offers and to build on it: "To build anything onstage, you have to accept what the other improviser initiates on stage. They say you're doctors—you're doctors. And then, you add to that: We're doctors and we're trapped in an ice cave. That's the '-and.' And then hopefully they 'yes-and' you back."
He concluded, "By following each other's lead, neither of you are really in control. It's more of a mutual discovery than a solo adventure. What happens in a scene is often as much a surprise to you as it is to the audience."
Stephen is a good Catholic boy at heart, and I realized he was describing faith as well as improv. The deeper I get into studying improv, the more captivated I am at what a profound spiritual practice it is.
The contemporary church finds itself in a time of profound and dizzying change. Neighborhoods are changing right out from under us. Congregations are shrinking. Old notions of "if you build it, they will come" no longer work. The younger generation has less and less connection to and interest in organized religion.
Congregations can respond to this reality in a number of different ways. We can keep doing things the way we always have, hoping for a miracle, or dwindling bit by bit until we die. Or we can improvise. We can look at the world around us—as it really is, not as it used to be or as we wish it would be—and figure out a "Yes-And" that is faithful to who we are and our gifts as a people.
Can you give a couple of examples of how embracing improv might be important for today's church?
Church of the Pilgrims in Washington DC is a great example of a congregation that's been implementing improvisational elements into its Sunday worship services. They serve a relatively young, increasingly diverse population in the inner city, including many people that did not grow up Presbyterian. The services typically follow the basic structure of our Service for the Lord's Day, while allowing for creative expression at various points in the service. Liturgy is defined as "the work of the people," and that work is sometimes unscripted and messy—but always grace-filled.
That's a clear example. But any congregation that is embracing something new, with a spirit of risk, as a response to the world as it actually is, is improvising. And it doesn't happen instantly—the change can come after many years of discernment. I think about Arlington Presbyterian Church in Virginia, a congregation that recently sold its building and will be renting space in a new multi-purpose space that includes affordable housing. After many years of "business as usual," with ever-shrinking membership, this congregation decided not to die a slow death. They realized that their neighborhood had changed and had new needs, and that they still had a ministry there—but it would require a new way of being. They found a bold "Yes-And," and are pursuing it with renewed vision and vigor.
You will offer a class/ workshop at 9:30 on January 22. What can folks expect if they attend?
Folks can expect a combination of presentation and conversation, with some video, art, pop culture, psychology, theology and more. I like to introduce an improv exercise or two, but these are always simple and completely voluntary. I expect us to have a playful spirit even as we learn together.
I know that you have a book on all of this coming out soon - could you tell us a little bit about it?
The book is tentatively titled Improvising with God, and considers improv as a spiritual and life practice. I explore seven basic principles of improv and how they might guide us into more creative and faithful living. And I consider the ways in which God improvises with us. As Presbyterians, we hold up the sovereignty of God as paramount, which I understand as the sense that "God's got this." At the same time, scripture is filled with stories of God changing course, experimenting, and collaborating with humanity in surprising ways. That's a God I want to know better! Improv is both a tool and lens for engaging with that God.
~
Are you looking for a preacher or speaker for your event? Check my Events Calendar to see what I have coming up, and contact me. The winter and spring are pretty booked, but I'm scheduling fall 2017 and beyond. I'd love to come meet you!
~
*This event in Delaware will be my 26th state for speaking events! Woo-hoo!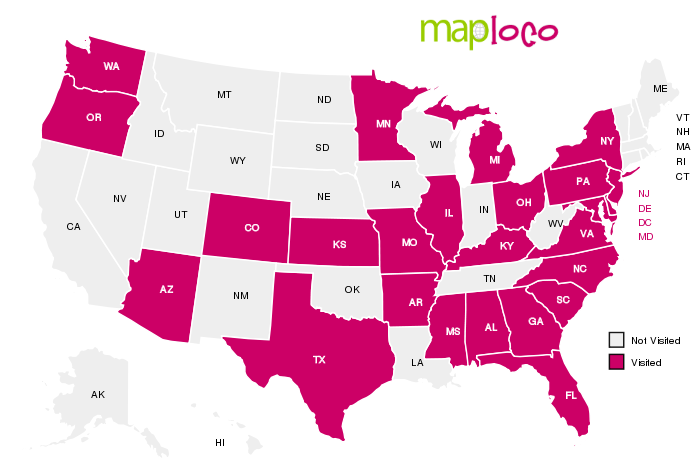 Create Your Own Visited States Map